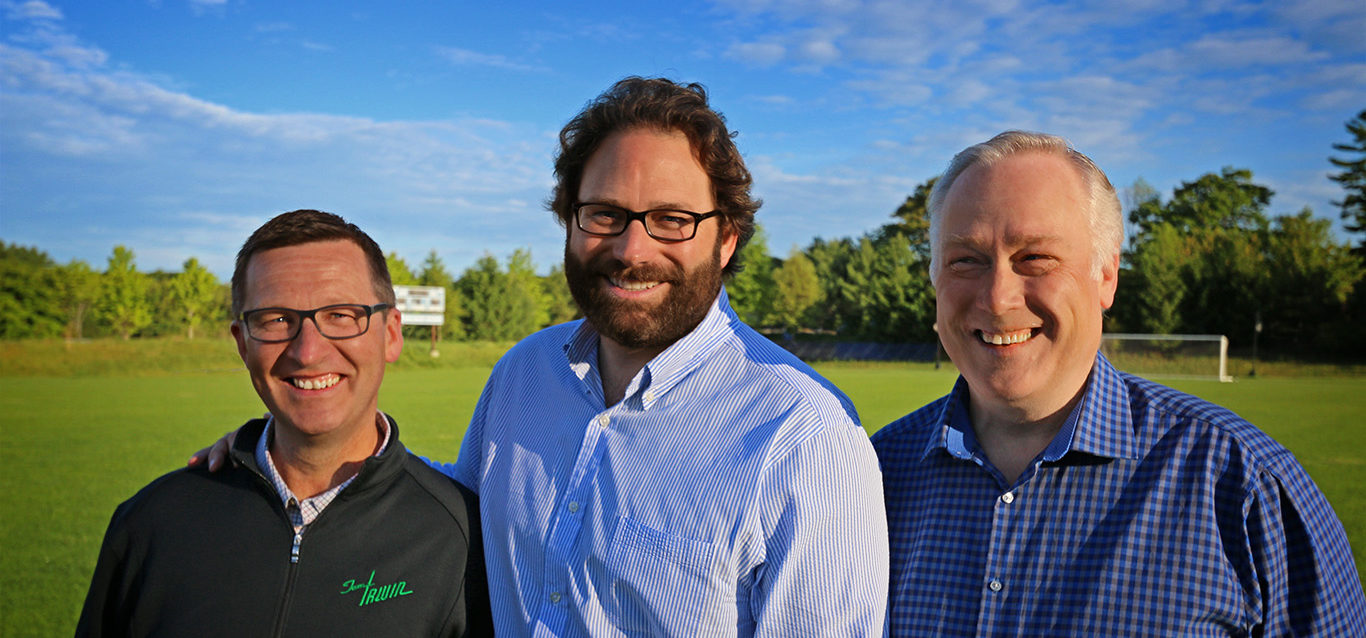 A team dedicated to
your success.
Ian Lacy
Lead Project Advisor
Focus: Project Strategy and Development, Management and Training
After his first trip to Africa, Ian Lacy knew that the value of recreational green spaces is universal to all communities around the globe.
As head of Great Britain's Institute of Groundsmanship's Professional Services organization, he'd been sent to Botswana on behalf of FIFA, the International Federation of Soccer, to discuss with groundskeepers in Africa maintainence of the soccer fields FIFA had built in preparation for the 2010 World Cup South Africa qualifying competitions.
"We drove 40 miles outside of the capital of Gaborone into the wilderness," Lacy recalls.
"Living conditions were very simple – earthen houses, no electricity. And suddenly, in the midst of this wilderness there appears this modern football pitch."
That soccer field had clearly become the center of village life, used by several schools and hundreds of children every day and a source of great pride for the local community. A large and enthusiastic group of groundskeepers from the region spent several days with Lacy, discussing how best to keep these treasured resources in safe playing condition.
I saw what an incredible impact recreational green spaces can have on a community.
He witnessed similar scenes on other FIFA-sponsored trips to nations from Costa Rica to Azerbaijan.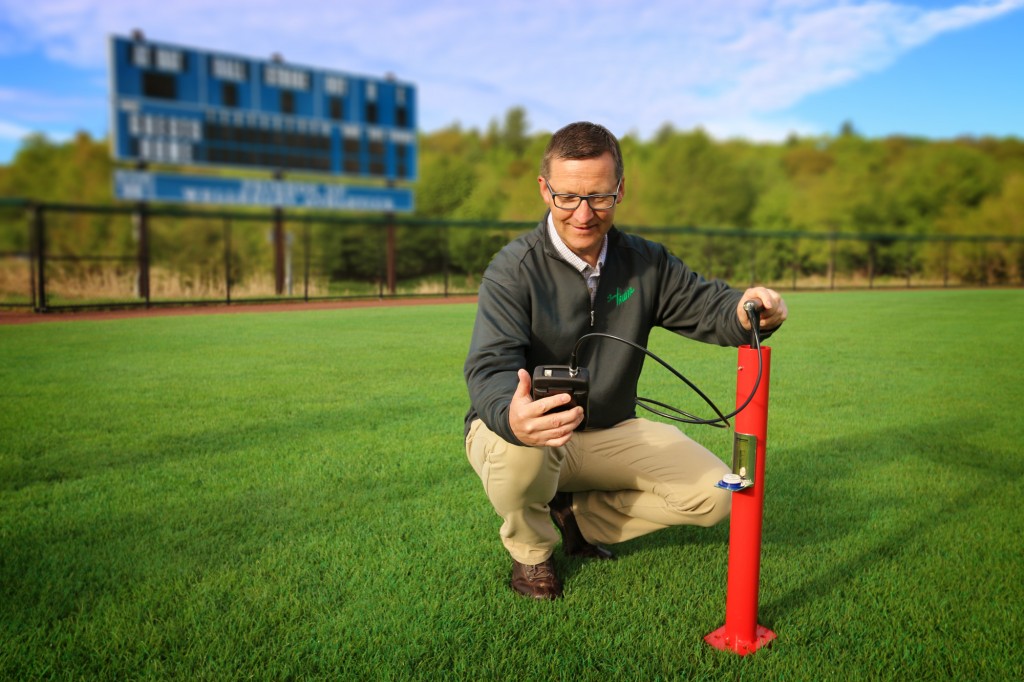 The British-born Lacy traces his love of sports and turf back to his childhood dream of playing professional soccer for his beloved Liverpool. That dream eventually led to Ian signing as an apprentice professional soccer player for Hartlepool United in northeastern England. After a serious ankle injury forced him to abandon soccer, he found a way to keep connected to sports and turf by becoming an apprentice greenkeeper on an English golf course.
After years of work and dedication, Lacy became the head of the Professional Services division of the Institute of Groundsmanship (IOG). At the IOG, Lacy helped develop the sports turf industry's first Performance Quality Standards (PQS). An innovative assessment tool for measuring a playing field's condition and performance sustainability, PQS is now employed by the British government for all field construction projects. Those same standards form the basis of his work as lead advisor for Tom Irwin Advisors.
When asked what has driven him throughout his career, Lacy has a ready answer. "My passion for creating and caring for green spaces started at a very young age," he replies.
Having started at the bottom as an apprentice greenkeeper, then becoming a qualified greenkeeper, then a head groundsman, taught me the value of proper design and construction and the impact it has on a field's ability to serve a community over the long term.
Lacy is also motivated by a desire to ensure that young athletes get the best possible start.
"Having watched my own son growing up loving sport, I want to make sure that everyone's sons and daughters have the best playing surfaces on which to learn, improve their skills, and enjoy the sport they are playing."
Lacy has shared that passion and expertise during his time as a sports turf lecturer in the UK as well as here in the United States, working in collaboration with US sports turf managers and lecturing to groups across the country on PQS, field design and construction. Lacy also discusses the need for understanding the positive impact that sustainable green spaces have on a community.
"One comes to realize that, whether a village in Africa or a small town in America, our parks and recreational spaces enhance the quality of life in our communities," says Lacy. "That's what drove me across the water to America — that and having a chance to create something very exciting and to be working with a group of fantastic people."
Kevin Dufour
Sustainability Advisor
Focus: Sustainability, Environmental Science, Laws and Regulations
For as long as Kevin Dufour can remember, he has shared a profound connection with the earth and its environment. His lifelong passion for conservation and environmental protection began at the age of 8 with his eager anticipation of Ranger Rick Magazine and his door-to-door activism for "Save the Whales" and "Save the Rain Forest" campaigns.
Dufour remains an avid environmentalist, outdoorsman and adventurer — a passion that fuels his belief that recreational green spaces can exist in harmony with our environment and improve life in our communities.
The challenge, notes Dufour, is that few if any individuals possess the complete range of knowledge necessary to build an environmentally sustainable sports or recreational facility. To make this point, he shares an anecdote.
I was talking to a friend who's an architect. She was building a field at a middle school and I asked her what standards she used to determine how to build that particular field. She replied, 'We followed DOT standards — the Department of Transportation.
Those are the same standards they use for putting in a median strip. They tell you about the soil type, the grade, and the drainage — but nothing about the field's sustainability or how it's actually going to perform down the road."
Kevin Dufour recognizes the need for performance quality standards and how to achieve them in a sustainable way. As an environmental scientist and attorney at law, he understands environmental responsibility and the complex laws and regulations associated with it.
But that's only the beginning. Dufour knows that true sustainability is a balance between environment, economy, and community.
The holder of a bachelor's degree in Environmental Science from the University of Massachusetts Lowell and a law degree from the Massachusetts School of Law, Dufour is a LEED-Accredited Professional in Operations and Maintenance and the recipient of an EPA Commendation for Outstanding Performance.
Those credentials and experiences enable Dufour to help clients set and achieve their sustainability benchmarks.
No one wants to see a beautifully-designed landscape wash into a nearby stream.
"There's no point in building a state-of-the-art recycled water system if the grass is going to die due to salt intolerance. Making the right choices at the design phase is your best insurance against project issues and future maintenance problems."
Tom Irwin Advisors can guide those decisions by assessing and mitigating areas of concern while building environmental stewardship into the organizational culture of your team.
Jack Schmidgall
Design and Construction Advisor
Focus: Design, Build and Management Specifications, Quality Control
Jack Schmidgall is living proof that, with proper guidance, recreational green spaces can be built and maintained sustainably, providing any community with generations of enjoyment.
"People used to come and play on my fields and say, 'Why can't we have fields like this in our town?" says Schmidgall.
That's kind of where it started. I'd get a phone call from another facilities manager who'd heard from somebody who'd played on the Danvers fields. They had a desire to improve their town's recreational spaces but didn't know where to begin.
For decades, Schmidgall has been the go-to guy for New England facilities managers and groundskeepers seeking advice and guidance.
That knowledge comes from more than 40 years of experience that began when the Wakefield, Massachusetts native took a summer job at Colonial Country Club in nearby Lynnfield. As captain of the Wakefield High varsity soccer team, Schmidgall already understood the value of well-maintained turf to sports performance and safety. After earning his degree in Turf Management at the University of Massachusetts Stockbridge School in 1974, Schmidgall was recruited by the town facilities manager in Wakefield to take over responsibility for the newly-built high school athletic facilities. Schmidgall spent the next decade in Wakefield before moving on to Danvers, where he devoted another 26 years to creating a legacy of sports turf excellence.
Along the way, he developed his own field testing regimen, which he has employed at venues as diverse as Foxboro Stadium and a women's softball complex in Croatia, and took a leading role in pioneering the use of organic nutrients for sports turf.
His efforts did not go unnoticed. Schmidgall received national recognition for his work, including the Sports Turf Managers Association's 1992 Baseball Field of the Year and 1993 Softball Field of the Year, and the High School Baseball Coaches Association 2000 National Groundskeeper/Field of the Year.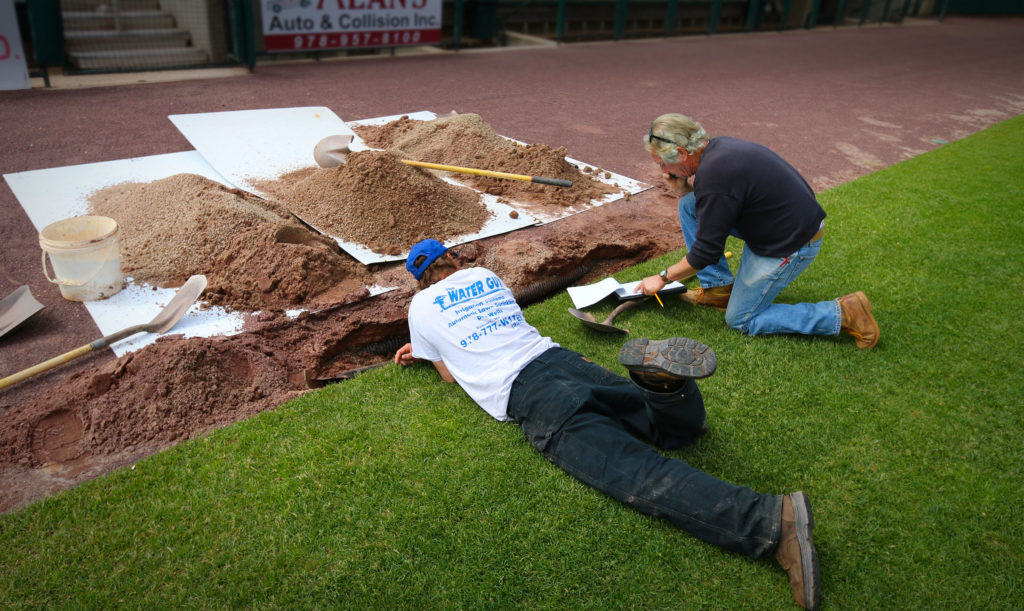 Schmidgall has been equally committed to knowledge-sharing among New England turf and tree professionals. In 1990, he helped found the New England Sports Turf Managers Association (NESTMA), which he served for four years as president. He has also led the Massachusetts Tree Warden and Forester's Association, and served as Athletic Field Representative for the University of Massachusetts Turf Advisory Board.
In many ways, Tom Irwin Advisors represents the culmination of Schmidgall's career.
"It's great working in cooperation with other people in the business who have the same passion and vision in helping communities build safe and sustainable fields for people to enjoy," he says. "We understand how systems operate and how budgets function. We're able to look at all aspects — design, development, construction, management — all in a responsible way, because we're experienced in all those areas. "
That broad, yet deep, perspective is key.
People are looking for guidance and reassurance, proper specification writing, and quality control. They want to know what they're doing is right," says Schmidgall.
"We can help in almost every situation that can arise — that's something unique to us. We understand expectations and impacts, we offer alternatives, and the result is a comprehensive proposal — the right materials, the right process, the right equipment, at the right cost."
Scott Vose
Technical Advisor
Focus: Project Strategy and Development
Quality turf has always been at the center of Scott Vose's professional life. As a golf course assistant superintendent, he was judged by the playing experience he delivered to his demanding clientele on a daily basis. As the Turfgrass Technician at the University of Connecticut Plant Science Research Farm, he supported research that promoted sustainable recreational areas and agricultural lands.
For Scott, the motivation has always been clear.
Everybody can appreciate a beautiful landscape just by looking at it. When you're actually involved in its care, you can take ownership of it, and that's what really drives me.
Today, he brings that deep knowledge and commitment to excellence to communities throughout New England as a Technical Advisor for Tom Irwin Advisors.
A childhood spent mowing lawns and accompanying his father to the golf course fostered Scott's lifelong love of the outdoors. By the time he was college age, it was a foregone conclusion that the Willimantic, Connecticut native would study turf science. He graduated from the University of Connecticut in 2009 with a degree in Turfgrass and Soil Science.
Scott quickly joined Connecticut National Golf Course as an assistant superintendent as the highly-regarded 18-hole public course was undergoing a major construction project. In addition to gaining construction experience, Scott learned how to coax the best playing conditions out of a high-volume golf course during his two years there.
When a position became available at the renowned University of Connecticut Plant Science and Landscape Architecture Research Farm in 2012, Scott leapt at the chance to deepen his knowledge and experience. The 153-acre facility is dedicated to promoting sustainable recreation areas and agricultural lands, enhancing the use of plants to solve environmental problems, and guiding the design of sustainably-built environments.
Working alongside PhD researchers, he spent the next eight years supporting analyses of golf course turf, seed trials, EPA studies for athletic fields, and home lawn research.
The work was rewarding on several levels. "We were all searching for the best ways to help people maintain quality green spaces – while also looking out for the community's health and the health of the environment," he said.
When Tom Irwin Advisors' Ian Lacy approached Scott about joining the company, he saw an opportunity to bring that expertise to a larger audience eager for the support.
At UConn, I got deep into the science of turf. Now at Tom Irwin Advisors, I'm personally helping people find solutions for their turfgrass problems, which I find deeply gratifying.
Scott relishes the role of problem-solver. "I used to be obsessed with the TV show CSI, and I see my role at Tom Irwin Advisors as kind of a sports turf CSI," he said with a laugh. "I love being part of the client's team, engaging with people, and forming new relationships. And I get to make a positive difference on multiple properties all across beautiful New England."
While Scott is deep into the science of turf, he doesn't lose sight of the higher purpose of his work.
"Green spaces bring people together like nothing else," said Scott. "If I can help create better, safer, and more sustainable fields that bring communities together and provide more enjoyment for people, that's better for everyone."
See what we mean when we say "you're not alone."